Welcome to Episode 12 of The Darlington Podcast!
In this episode, Julie Lucas ('97), chief advancement officer, catches up with Helen (Davis) Hanavich ('02, LD '12) and Blake Segars ('99, LD '19), two outstanding alumni who have been able to collaborate professionally with their interior design and architecture businesses. Helen and Blake have had very unique career paths since leaving the Lakeside, but each has managed to incorporate curiosity and fun into their professional experiences.
About Helen: Helen Davis Interior Design is a full service residential and commercial interior design firm reflecting the unique lifestyle of each individual client. Helen works to find one-of-a-kind pieces, mixing modern and traditional elements to create fresh yet timeless spaces. After graduating from Southern Methodist University in 2006, Helen moved to Manhattan to pursue a career in the fashion industry. Upon her return to Atlanta, Helen married her love of fashion, travel and design and founded her furniture and interiors company in the summer of 2010. Helen is currently working on projects in Georgia, Florida, Tennessee and Texas. Her work has been featured in Atlanta Magazine, Better Homes & Gardens, and Glamour. For more information please contact Helen via email at helen@helendavisdesign.com.
Follow Helen on Instagram, Facebook, Pinterest, and Twitter.
About Blake: Blake Segars is the chief designer and founder of T. Blake Segars Architecture and Landscapes. He is a member of the American Institute of Architects (AIA) with a Master of Architecture degree from the Georgia Institute of Technology, and he is also a licensed Landscape Architect (PLA) and a member of the American Society of Landscape Architects (ASLA), with a Bachelor of Landscape Architecture from the University of Georgia. In 2011, Blake received the Georgia Trust for Historic Preservation's prestigious Neel Reid prize. Professionally trained by prominent residential architect Norman Askins in Atlanta and renowned landscape architect Ben Page in Nashville, Blake also completed extensive studies in England of the works of Edwin Lutyens and Gertrude Jekyll. He has been greatly influenced by other renowned architects specializing in the classical style, including Neel Reid, Philip Shutze and Ivey and Crook. Blake's design style reflects his expertise in classical and traditional architecture and design philosophies and how they can be modernized to bring fresh perspective and greater function for today's home and garden designs.
Follow Blake on Instagram, Facebook, Pinterest, and LinkedIn.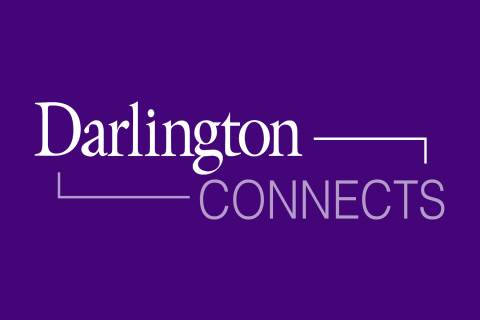 Every member of the Darlington Community has countless Darlington connections, especially in the work world. By supporting each other's careers and life goals, we are better connecting our students, alumni, parents, parents of alumni, and grandparents.
Share more about your career in a Darlington Connects spotlight
Lend your expertise to a current student or recent graduate
Connect with others in your field or your geographic area via our Alumni Directory or our Darlington Connects group on LinkedIn
Volunteer to be one of our guest speakers at Career Day
Please email connect@darlingtonschool.org to get in touch with Blake and Helen or to get involved with the program.
---
The Darlington Podcast is hosted by various members of the faculty and staff. Episodes are released each Thursday morning and available on most podcast platforms (search for The Darlington Podcast in your podcast player). Once new episodes are posted, you'll also be able to find them at www.darlingtonschool.org/podcast. Please subscribe wherever you listen to podcasts so that you'll get the latest episode each week!
The Darlington Podcast intro music was written and performed by Elliot Luitweiler ('22) and Katherine Davidson ('22). Carson Raymond, director of major gifts, lends his voice for the open and close and editing and production is handled by Jennifer Collins, content manager.
If you have ideas for future episodes or have any questions about The Darlington Podcast, please email communications@darlingtonschool.org.